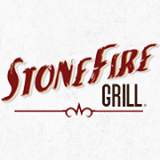 Project Overview
Stonefire Grill brings a full-service dining experience to guests through the convenience of fast-casual. Meals are served family style and sharing is encouraged. Guests enjoy a wide variety of grilled items, salads, vegetarian menu items. Their immediate need was organizing their marketing activities into a concise calendarized plan.  
Results
To support their immediate need, we provided consulting services for the team to support the development and execution of their marketing plan. 
Teresa dove right into the STONEFIRE business in our time together, asking insightful, pointed questions that allowed me to take a step back from my own role and effectively analyze what was working and what needed attention. I was able to see my own strategies and tactics in a different light, and with her guidance, I have since made subtle yet impactful changes that have sharpened the consistency of our brand and coherently built a series of messages that resonate with our targeted audience of guests. Not only is Teresa strategic and methodical, she is a wonderful resource, a mentor who listens intently and frames her wise advise through the lens of her own professional experiences. I sincerely appreciate the work that you do!